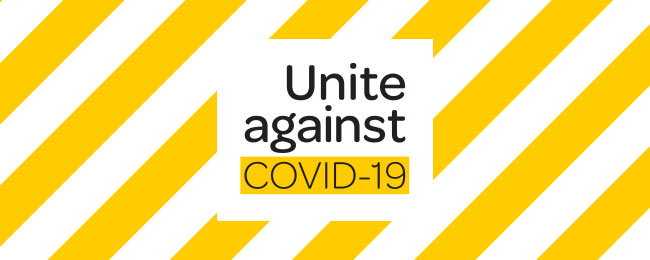 Many of our customers and their customers have been affected COVID-19, as a large number of businesses have been forced to shut down entirely or severely reduce their operations at the current alert levels.
At times like this with dramatic events and constantly changing status, it's easy to be too busy or distracted to fully grasp the financial help available from the government and other agencies.
We have put together a summary guide on what we have found available in the form of Government aid and bank schemes to help you keep the lights on, retain and support your staff with financial aid, manage cash flow with the finance guarantee scheme and tax relief, and advice if you need to consider redundancies.
Key Resources
COVID-19 Information for businesses: This page brings together all business-related government information due to COVID-19
https://www.business.govt.nz/covid-19
Unite Against COVID-19: This website is the fastest way to get the most up-to-date info on financial support, as well as other COVID-19 related information: https://covid19.govt.nz/government-actions/financial-support/
You can call the free government helpline on: 0800 779 997 (8am–1am, 7 days a week) or on 0800 22 66 57 (9am-5pm, Monday-Friday).
---
$9.3 billion in wage subsidies for affected businesses in all sectors and regions
If your business has experienced a 30%+ decline in revenue (actual or predicted) between January 2020 and 9 June 2020 due to COVID-19, you may be eligible for the Wage Subsidy.
The latest Government announcement had removed the previous $150,000 cap per business, and the limit on the number of staff your business can apply for, to help with more medium to larger enterprises.
The scheme is open to all businesses, including sole traders and the self-employed. The Wage Subsidy is only available once per business.
Each business application will receive a lump sum payment of $7,029.60 per full-time employee and $4,200 per part-time employee. This equates to:
$585.80 per week for a full-time employee (20 hrs or more)
$350.00 per week for a part-time employee (less than 20 hrs)
$126 million in COVID-19 leave and self-isolation support
From 17 March 2020, the COVID-19 leave payment will be available to support people financially if they:
Need to self-isolate
Can't work because they are sick with covid-19 (including inability to work from home)
Can't work because they are caring for dependents who are required to self-isolate or who are sick with covid-19
The payments will be:
$585.80 per week for a full-time worker
$350 per week for a part-time worker
The COVID-19 leave payment will be available for 8 weeks from 17 March 2020. Employers will be able to apply for this more than once, on an 'as needed' basis. It will be paid to employers who have eligible employees and they must pass the payment onto their employees in full.
Wage Subsidy & Leave Payment Support
For more detailed qualification info, including application process visit: https://workandincome.govt.nz/products/a-z-benefits/covid-19-support.html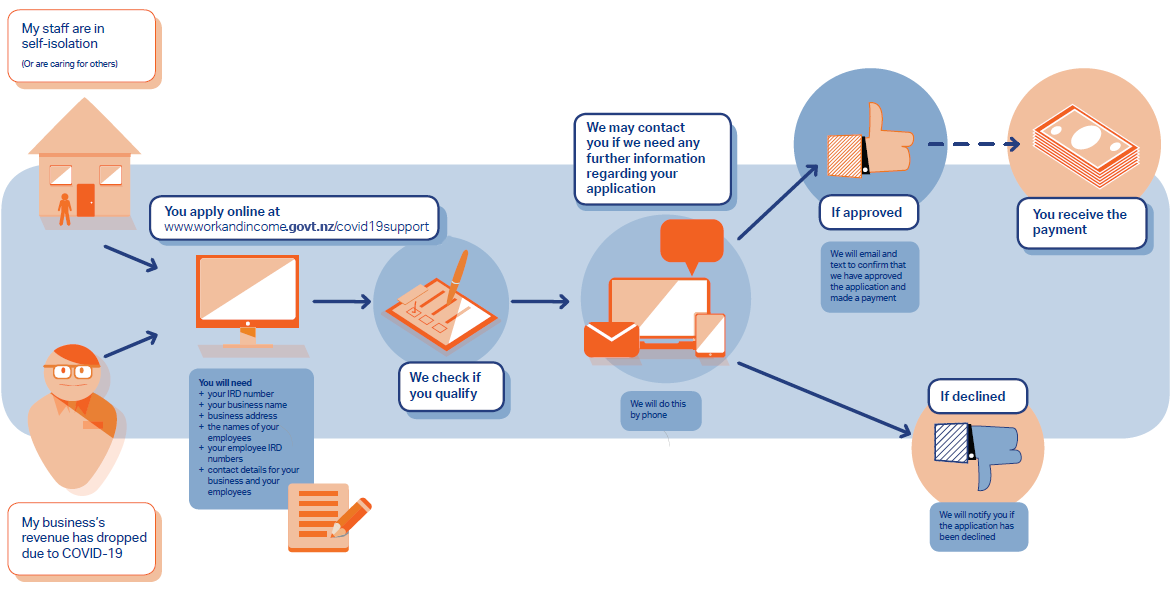 Application form for Employers
Application form for the Self-Employed (no employees)
Each business can only apply for the Wage Subsidy once.
Additionally, if you also have staff or are an individual who has to undertake self-isolation, your business can apply for the Leave Payment which is available more than once.
Download Wage Subsidy & Leave Payment Fact Sheet
$6.25 billion in Business Finance Guarantee Scheme to help with cashflow
This Scheme provides short-term credit to cushion financial distress on solvent SMBs affected by the COVID-19 crisis. Under the scheme, the Government will carry 80% of the credit risk and Banks carry the rest 20%. This is additional to the Wage Subsidy scheme above.
The qualifying criteria are:
Successful applicants will receive up to $500,000 per loan.
How do you apply?
Apply direct with your businesses' bank. Major banks listed below:
Interest, standard fees and credit criteria apply.
$2.8 billion in business tax relief
IRD has a range of new tax relief measures to help you manage and free up cashflow, including a provisional tax threshold lift, the reinstatement of building depreciation and writing off interest on the late payment of tax.
Visit https://www.ird.govt.nz/covid-19/tax-relief for full info. The page includes how to process the tax on the Wage Subsidies or Leave Payments.
Provisional tax threshold has been increased from $2,500 to $5,000 from 2020/2021
Small asset depreciation threshold has been increased from $500 to $1,000 — and to $5,000 for the 2020/21 tax year
Commercial and industrial buildings can now be depreciated from 2020/2021 (does not apply for residential)
Removing the hours test from the In-Work Tax Credit (IWTC) from 1 July 2020.
If you have a tax agent, IRD encourages you to start talking with them about the ways you can reduce or delay your tax payments. Your tax agent will understand your financial situation, the types of tax relief available and how to get it.
Redundancy help and advice
If your business is in the position now where you need to consider downsizing, redundancies, reducing staff hours or closing your operations, Ministry of Social Development can provide support and advice for you and your staff.
All information you provide to MSD will be kept confidential.
Redundancy Support for Employers https://workandincome.govt.nz/employers/redundancy-support/index.html
If you need more information or want to talk to someone for help, you can: