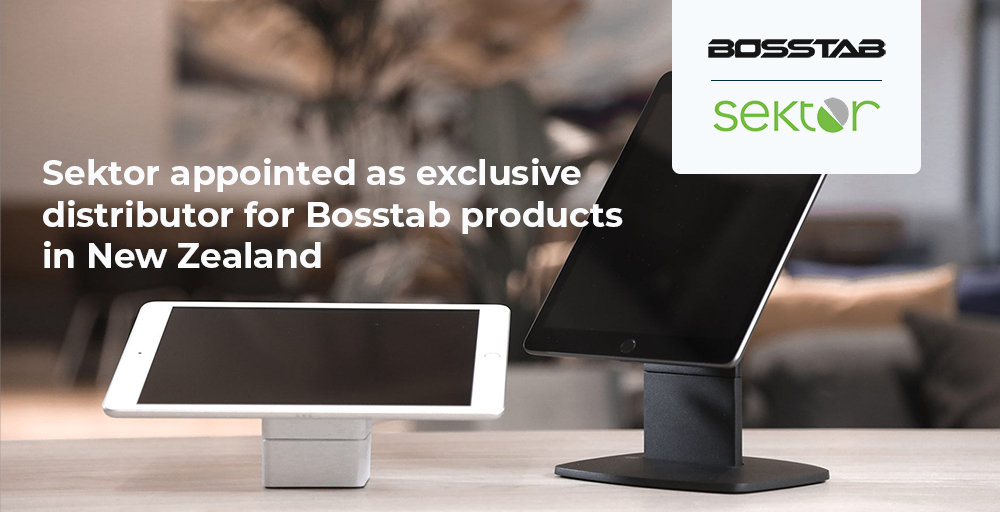 Sektor is delighted to announce its appointment as exclusive distributor for Bosstab products in Australia and New Zealand.
Bosstab specialises in stands and mounts for tablets. As tablets increasingly replace bulkier PC and POS terminals, users are looking for innovative, sleek and functional stands. Bosstab's range includes desktop, wall mount and floor stands for retail stores, restaurants, exhibitions, kiosks and visitor check-in.
Bosstab wanted to expand their reach within Australia and New Zealand, and saw a distribution partnership as the answer.
Ryan Raubenheimer, Bosstab's General Manager, says: "Distribution is the most efficient way to scale our business. We selected Sektor because of their great connections, deep knowledge of our markets, and strong sales team."
"Sektor is the distributor with the greatest reach, and many of the organisations that we have in our sights already deal with them."
"Sektor are upfront and honest about everything and dealing with them is a very positive experience. They were the obvious and only choice as our distribution partner."
For Sektor, Bosstab represents a very natural addition to their portfolio of products, and adds value to their network of solution provider partners. Andre van Duiven, Managing Director of Sektor New Zealand, said: "Form factor is playing an increasingly significant role in today's technology environment, adding value to tablet solutions and making them more useable for the customer. We are very pleased to now offer Bosstab stands and mounts to our system integrators, helping them deliver the best looking and most practical tablet solutions to their customers."
---
About Bosstab
Founded in 2015, Bosstab is a global company, headquartered in Melbourne, and with a US office in Dallas. Offices in Europe are set to open in 2023/24. A focus on innovation and product development has seen Bosstab grow rapidly, becoming the leader in POS and kiosk tablet stands. For more information, visit www.bosstab.com.