Sektor Ltd last updated 22/09/2021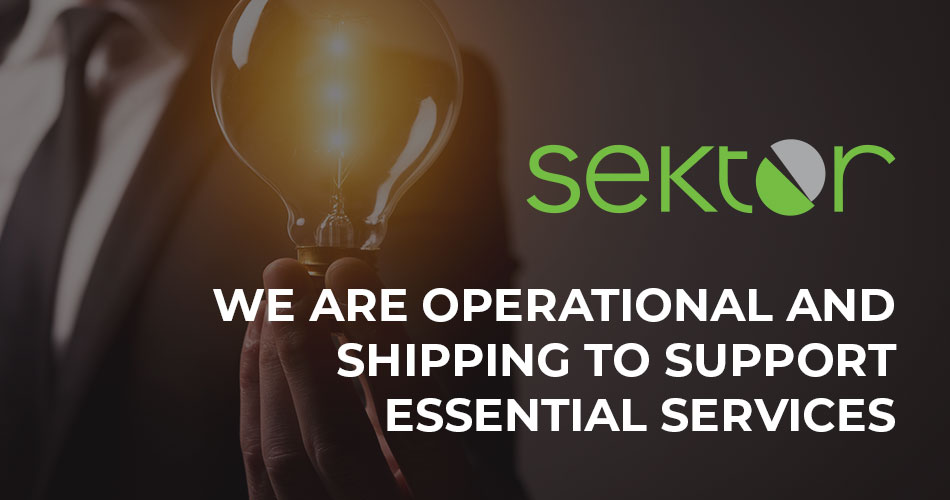 COVID-19 Updates from Sektor
Sektor is Operational and Shipping
At COVID alert level 3 in Auckland where our head office and warehouse are, we remain operational and are shipping all orders as we support essential services businesses. We have transitioned almost all staff to work from home while the Auckland office operates on a skeleton staff to ship orders. We would prefer to deliver orders directly but where that is not possible orders can still be collected from our Auckland warehouse (see note below). We have the inventory of most products available for immediate supply.
We understand that many of our clients are servicing businesses that have been impacted by current trading restrictions. Given the restrictions which are in place, we do require confirmation that orders are able to be received at the designated shipping address before we release them. Please liaise with our customer services team for those shipments by calling 0800 735 867 or email sales@sektor.co.nz
Collecting Goods from our Auckland Warehouse
If you have nominated that you would like to collect goods, we will email you a confirmation when the goods are ready for collection. Please ensure that the person collecting the goods has a copy of the confirmation email and ID/Licence before they come to our warehouse. A photo from a mounted webcam will be taken of the collector's ID instead of a signature, to ensure a non-contact process.
Collection of goods via reception is not available at this time – please proceed directly to our warehouse collection point.
The person collecting the goods must be wearing a mask and maintain 2m social distancing.
Collections times:
Monday to Friday, 8:30 am - 4 pm
Contacting our Team
You can still contact us on our office phone numbers, however, you may prefer to contact our sales staff directly on their mobile phones. The mobile phone number of your account manager is displayed when you are logged into our website.
Supply Chain Delays
We have significantly increased our run-rate stock holding and forward ordering to support our partners. However, we are unable to control extended manufacturing lead times and shipping delays and we are encouraging customers to order well in advance of requirements to avoid disappointment.
Manufacturing Delays
With ongoing component supply shortages and increased global demand, we have seen longer manufacturing from our Vendors. We are working closely with all our partners to improve delivery dates where possible and appreciate your patience. If you know your customers are planning to place the orders, we recommend they order well in advance to ensure they can hit their expected rollout dates.
Port Delays
The Port of Auckland and Port of Tauranga are both still heavily congested and there are still significant delays at present. Port of Tauranga is on an average 14 days behind in moving containers to Auckland. Berth windows at Ports of Auckland remain suspended and vessels are being worked on based on arrivals. Ports of Auckland have advised that the average delay is approx 7-10 days.
Air Freight
Many products which were previously shipped via air freight are now being shipped via sea freight. This has seen lead times extended on many products and additional charges may be applicable where transit via air freight is essential.
ETAs and Backorders
Accurate and detailed information is not always available, but we are endeavouring to update all ETAs as soon as we are advised. Backorder reports are updated with any new ETA information overnight and available via our web portal when you sign in to your Sektor website account
How to review your backorders and etas on our website
How to use our website (all video tutorials)