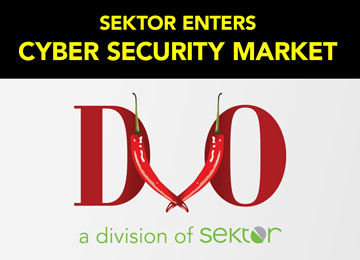 Sektor New Zealand today announced the acquisition of leading cyber security distributor Duo NZ Ltd.
Sektor New Zealand's Managing Director, Andre van Duiven says "Cyber security threats are growing to be a major risk for all businesses and the market for cyber security solutions is growing accordingly".
"Duo's position as the cyber security market leader fits perfectly with Sektor's plan to support this growing market, especially in Sektor's vertical markets such as Mobile Computing, Security Cameras, Retail POS and Healthcare where cyber threats are now starting to be fully appreciated," he says.
Duo was founded in 1996 by Kendra Ross and Jackie Hatchwell. Kendra Ross has been appointed General Manager of the new division with all DUO management and staff being retained.
"We are absolutely thrilled to have found an acquirer in Sektor who shares Duo's values and culture" says Duo Co-Founder and CEO Kendra Ross "Sektor are market leaders in verticals that are increasingly intersecting with the cyber security market, it's an emerging market for us that we have been very keen to pursue."
"Sektor offers us a platform for further growth as part of a larger New Zealand-owned distributor, both in New Zealand and in Australia. The whole team are excited about this next chapter in the Duo story." Says Jackie Hatchwell Duo Co-Founder.
About Sektor
Sektor is a technology distribution company that helps its customers build innovative and efficient solutions for the retail, networking, health, mobility, security, ergonomics and payments markets. Sektor's passionate, dedicated and deeply knowledgeable team are industry and technology experts, helping resellers build winning solutions for clients. www.sektor.co
About DUO
DUO is NZ's largest Value Add Cyber Security Distributor representing the largest global brands such as Check Point, McAfee, RSA and SailPoint while PSDuo is NZ's only Cyber Security skills supplier to the channel and Duo International is DUO's Australian distribution arm.
Contact Details
Andre van Duiven, Managing Director - Sektor NZ | andrev@sektor.co.nz | +64 21 713 246
Kendra Ross, General Manager - DUO | kendra@duo.co.nz | +64 21 459 882