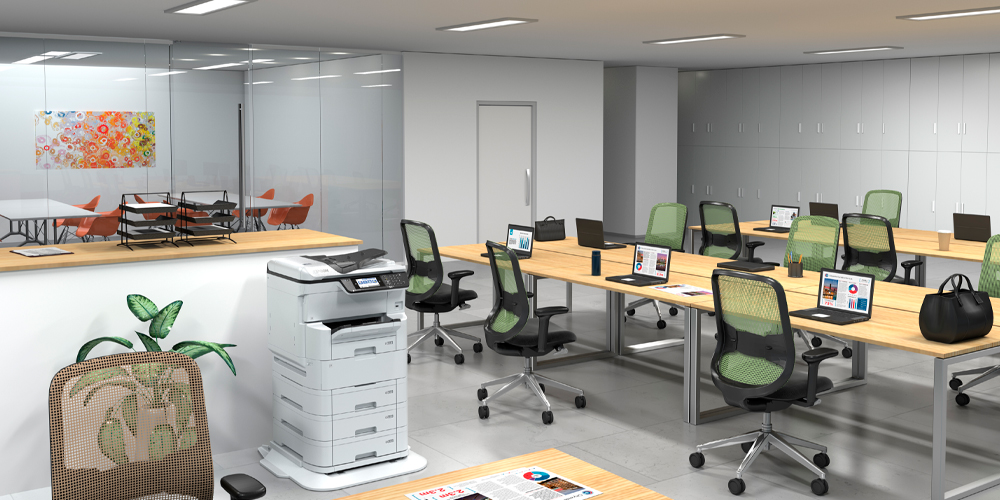 Since their recent launch of business printer solutions, Epson NZ has seen significant demand and interest in their Heat-Free business printer range nationwide. Epson will be working with key Sektor partners to establish an authorised reseller network to bring this innovative, sustainable technology to businesses throughout the country.
Epson NZ General Manager, Kaden McCaffery, said, "The interest in and demand for Epson's Heat-Free business printers has been significant, allowing us to rapidly establish a network of active copier dealers across both the North and South Island of New Zealand."
McCaffery sees real customer value in this new network of copier dealers and has sought to widen Epson New Zealand's potential partner and customer base by adding two distributors noting "As a specialised distributor, Sektor works with a range of non-traditional print partners and operates with resellers in specialist areas such as the medical industry which complements our clean hand–clean air print technology. Sektor has seen significant growth and expansion across its New Zealand operations as a result of its strong customer partnerships in specialised verticals.
The sales and growth combined with the fact that Epson's business printers use Heat-Free Technology and thus use less energy, is no coincidence as the company was recently voted the No.1 Sustainable company by Forbes Japan.
Epson also recently earned its second successive platinum rating for sustainability from EcoVadis. The platinum rating, which was established in 2020, indicates that Epson was ranked among the top 1% of companies in the industry. The platinum rating was awarded in recognition of Epson's global sustainability initiatives. In the four themes assessed by EcoVadis, Epson received high scores for the environment, sustainable procurement, labour and human rights and ethics.
Kaden McCaffery concluded, "It's clear that New Zealand businesses want to have a positive effect on the environment and one of the ways this can be achieved is through the use of Epson's Heat-Free inkjet business printers which use a substantially lower level of energy than a comparable laser printer. Looking beyond product/material innovation, businesses like Epson can also make a difference through the promotion and demonstration of climate responsibility. In that regard we are transitioning to 100% renewable electricity and are engaging with initiatives such as the RE100 renewable energy project; working to close the resource loop by, for example, promoting product refurbishment and reuse."
For more on Epson NZ's enterprise, business and document solutions products go to: https://www.epson.co.nz/products/printers_for_business/. For more on Sustainability at Epson go to: https://global.epson.com/SR/.
---
About Epson and Epson New Zealand
Epson is a global technology leader dedicated to co-creating sustainability and enriching communities by leveraging its efficient, compact, and precision technologies and digital technologies to connect people, things, and information. The company is focused on solving societal issues through innovations in home and office printing, commercial and industrial printing, manufacturing, visual and lifestyle. Epson will become carbon negative and eliminate use of exhaustible underground resources such as oil and metal by 2050. Led by the Japan-based Seiko Epson Corporation, the worldwide Epson Group generates annual sales of around JPY 1 trillion. global.epson.com/.
Epson New Zealand offers an extensive array of award-winning image capture and image output products for the commercial, industrial, consumer, business, photography and graphic arts markets, and is also a leading supplier of value-added point-of-sale (POS) solutions for the retail market. Epson is a market leader in New Zealand, Australia and worldwide in sales of projectors for the home, office and education. Epson New Zealand is headquartered in Auckland and is a branch of Epson Australia Pty Limited, a subsidiary of the Epson Group headquartered in Japan. www.epson.co.nz
About Sektor
Sektor is a technology distribution company that helps its customers build innovative and efficient solutions for the cyber security, retail, mobile computing, networking, health, security, ergonomics and payments markets. Sektor's passionate, dedicated and deeply knowledgeable teams are industry and technology experts, helping resellers build winning solutions for clients.
Contact the Sektor team on sales@sektor.co.nz if you are interested in becoming a reseller for Epson Document Solutions range.