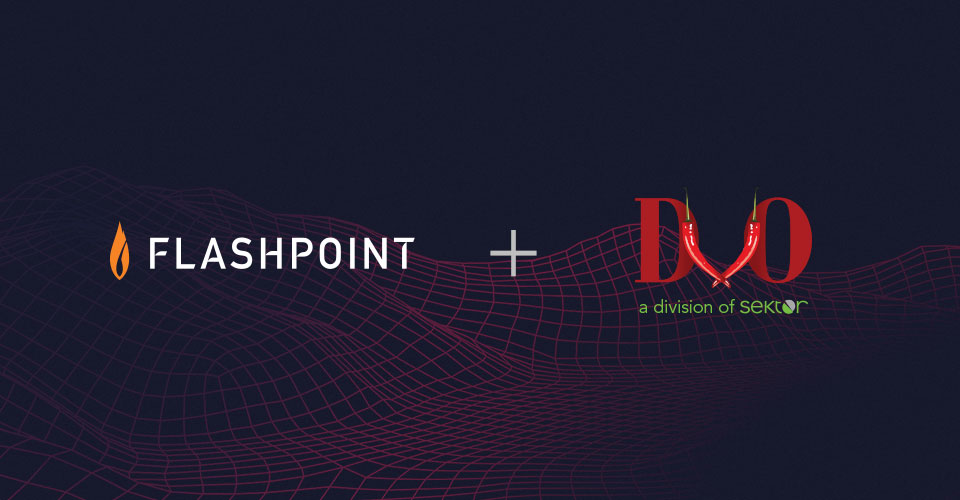 Flashpoint, the globally trusted leader in actionable threat intelligence, has recently joined forces with Sektor to bring class leading threat intelligence solutions to the New Zealand market through Sektor's cyber security division, Duo.
"The key to Flashpoint is the 'actionable' part. This is what makes the offering so valuable for our partners and clients" according to Jo Haanstra, GM of Duo, a division of Sektor. "There are plenty of security intelligence feeds around but none that are providing strategic and actionable intelligence like Flashpoint. Whether it is identifying your organisational exposure in the illicit cyber underground, detecting insider threats, capturing stolen credentials that could give an attacker access to the network or hunting for exposed customer data to prevent account take over or credit card fraud, the Flashpoint solution and team can help."
"We're excited to partner with Duo and support clients and partners with their critical intelligence missions" said Vice President Asia Pacific and Japan Paul Farley. "Choosing a partner aligned to our values, with a deep understanding of the threat landscape and a decade long track record of creating trusted relationships and business outcomes was so important to our mission and our objectives."
---
About Flashpoint
Flashpoint is the globally trusted leader in risk intelligence for organizations that demand the fastest, most comprehensive coverage of threatening activity on the internet. From bolstering cyber and physical security, to detecting fraud and insider threats, Flashpoint partners with customers across the private and public sectors to help them rapidly identify threats and mitigate their most critical security risks. For more information, visit www.flashpoint-intel.com or follow us on Twitter at @FlashpointIntel.
About Duo, a Division of Sektor Ltd
Duo is New Zealand's largest dedicated cyber security distributor bringing best of breed and innovative solutions to the partner community. Having been in the cyber security market for over a decade, Duo brings a depth of expertise and experience which has helped it support the industry as a whole to advance New Zealand's security posture.
Sektor is a technology distribution group helping customers build innovative and efficient solutions for the retail, networking, healthcare, mobility, security, ergonomics and cyber security markets. Sektor's passionate, dedicated and deeply knowledgeable team are industry and technology experts, helping its partners build winning solutions for clients. Sektor is a New Zealand company with offices in Australia, Malaysia, Thailand and Vietnam. With over 200 staff it is the largest value-added IT distributor in the Asia Pacific region. www.sektor.co
Contact:
Jo Haanstra – Duo General Manager | 021 459 884
Matt Geluk-Rowe – Duo Alliances Manager | 021 459 885