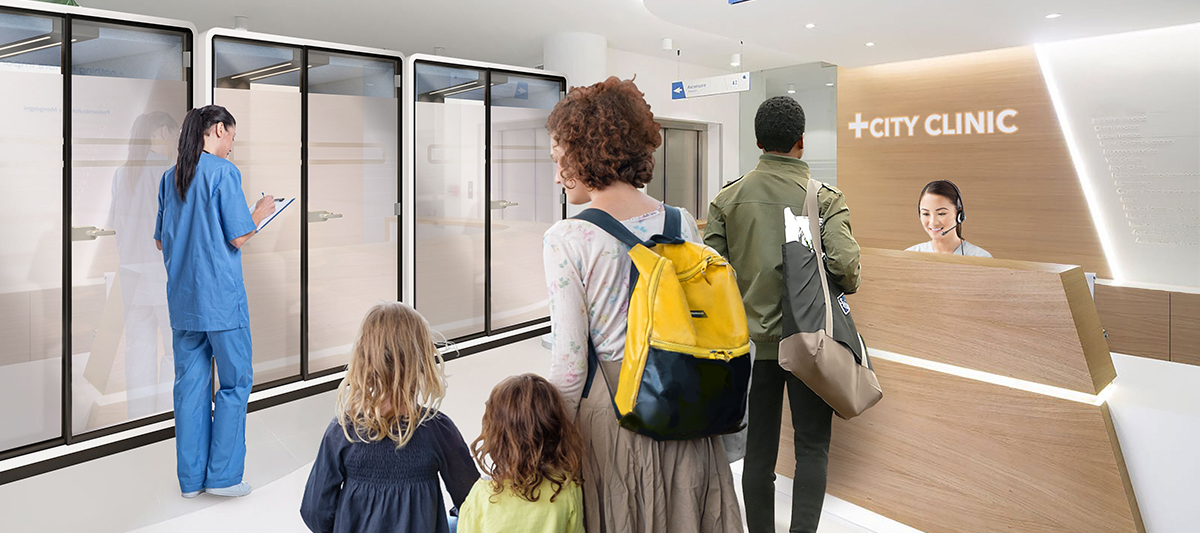 There's no doubt about it – Covid 19 has had a substantial impact on the uptake of telehealth services. Use has soared and the industry has been forced to scale up the use of technology to provide remote care in this new environment.
All kinds of healthcare providers, from GPs to mental health workers, have had to embrace this new way of communicating with their patients.
Telehealth has proven to be, and will remain, an in-demand option for patients. To implement it successfully, healthcare providers need to be strategic in crafting a sustainable solution that considers their infrastructure needs, clinician capabilities, patient expectations and care outcomes.
Having a suitable physical space for telehealth consultations, removing barriers to care and improving the patient experience are some of the most important considerations facing Healthcare workers today.
Will a dedicated telehealth workspace help?
The short answer is yes. In an ideal world, both the healthcare worker and the patient would have a suitable environment to ensure they get the most out of the appointment. Privacy, good acoustics and easy-to-use technology are all important when considering a telehealth space. Let's explore these further:
For the healthcare worker
A well-designed telehealth workspace solution is an essential investment for any healthcare business looking to deliver quality remote consultations in an easy, efficient and effective manner. Purpose-built telehealth pods are already being trialled here and overseas.
These specialised pods can assist with improved consultation outcomes. They do this via:
Great acoustics and privacy for users
Reducing background noise ensures listening to the patient is easier. Pods significantly reduce and block outside sound, reducing possible distractions. A telehealth pod maintains the patient's privacy, so even if the pod is situated in an open plan or high traffic area, confidentiality can be maintained as you can't hear into, or out of, the pod.
Small footprint, easy set up
Pods take a tiny amount of floor space, in some cases needing only a couple of metres. They can be easily assembled in a few short hours without the need for building permits or a redesign of the entire floor space.
Walk in, walk out consultations
Equipment can be set up so a clinician can be ready for a consult within 1 minute. Permanently mounted screens can be installed for video interactions, ensuring better care by having the ability to see a patient on a large screen. This type of dedicated area ensures the clinician is readily able to offer a consult with minimum downtime setting up or familiarising themselves with technology.
For the patient
It's important for our healthcare workers to have an effective telehealth environment, but what about the patients? In New Zealand, our unique landscape of comparatively low population density means that many must travel long distances to access care.
Making more appointments more accessible
Pods offer an affordable way to increase remote care capabilities, when placed in community health centres to allow patients to access hospitals or specialists remotely - an efficient way to utilise existing space and resources available. DHBs around NZ are discussing options to place telehealth hubs in maraes and community centres for patients to access, and exploring having trained nurses attend consults with patients to assist in the use of technology, and to provide some forms of physical examination to maximise the effectiveness of a telehealth visit.
Reach more of the less digitally connected
A dedicated community telehealth pod, properly set up with a video consultation system, also fills the gaps in care for the less advantaged; for example, patients who may not have mobile devices and/or the data plans to access telehealth from their own homes. Patients are also able to attend appointments with the support of a family member, in cases where it may not have been possible previously due to distance and financial or travel limitations.
Flexible to the changing needs of the community
Telehealth pods that are built to be movable offer another advantage – they can be relocated to suit the changing needs of communities and providers, making them a flexible investment for organisations.
Telehealth is already shaping the future of healthcare. The improved accessibility and patient experience offered by telehealth pods fitted with video consultation systems, can go a long way in making a positive impact on how care is delivered.
What is your healthcare organisation currently considering when it comes to implementing a sustainable, quality telehealth service for the future?
Let us know - contact us on healthcare@sektor.co.nz